The Flamboyance of Flamingos
British-Nigerian designer Yinka Ilori is giving an out-of-use play area in Parsloes Park a colourful makeover, as part of Becontree Forever
Becontree Forever is a council-led programme to celebrate the estate's ground-breaking and radical past and reimagine its future.
The most ambitious of the interwar housing estates in the UK, Becontree's first row of houses was completed in November 1921. Becontree, now home to over 75,000 residents, embodies the radical early twentieth century commitment to public housing, and has experienced 100 years of social, economic and political challenges.
The London Borough of Barking and Dagenham has commissioned Create London to develop a series of infrastructure projects with five artists, architects and designers. Create have commissioned five permanent public infrastructure works, as part of Becontree Forever, a long-term project to celebrate, renew and rebuilding the Estate.
These include Squaring the Corners, a project by nimtim architects and artist Katie Schwab, commissioned in partnership with RIBA, reimagines Becontree's neglected corner plots - found at the end of terraced houses across the estate - as new garden squares. British-Nigerian designer Yinka Ilori MBE will give an out-of-use play area in Parsloes Park a new lease of life, creating colourful play equipment that emphasises accessibility, collaborative play and harmony with the park's ecology.
Yinka Ilori says: "I am humbled and honoured to have won the commission to design a new playground for the Becontree Estate. This area is so full of history and heritage and, for me, it's very important to celebrate this with the community. The playground will create a vibrant collection of new, accessible play equipment with a focus on collaborative play and immersion in the outdoors. The design celebrates the estate with unique, joyful play equipment that draws on resident memories of the estate and that will create new, shared memories for the next generation. It's only right to celebrate the centenary with something really impactful and long-lasting and makes the people who live there feel appreciated and have their voices amplified."
Drawing from residents' stories through a series of creative workshops, Yinka will seek to capture Becontree's vibrant past through a rich colour-scape of new and revitalised play equipment.
The design encourages collaborative play for children of all ages, as well as reintroducing pink flamingos to the park – in the form of bouncy spring rockers. Yinka sees value in bringing his design skills to a play area: normally off the peg and standardised, these unique structures will open up possibilities for expanding park goers' imaginations.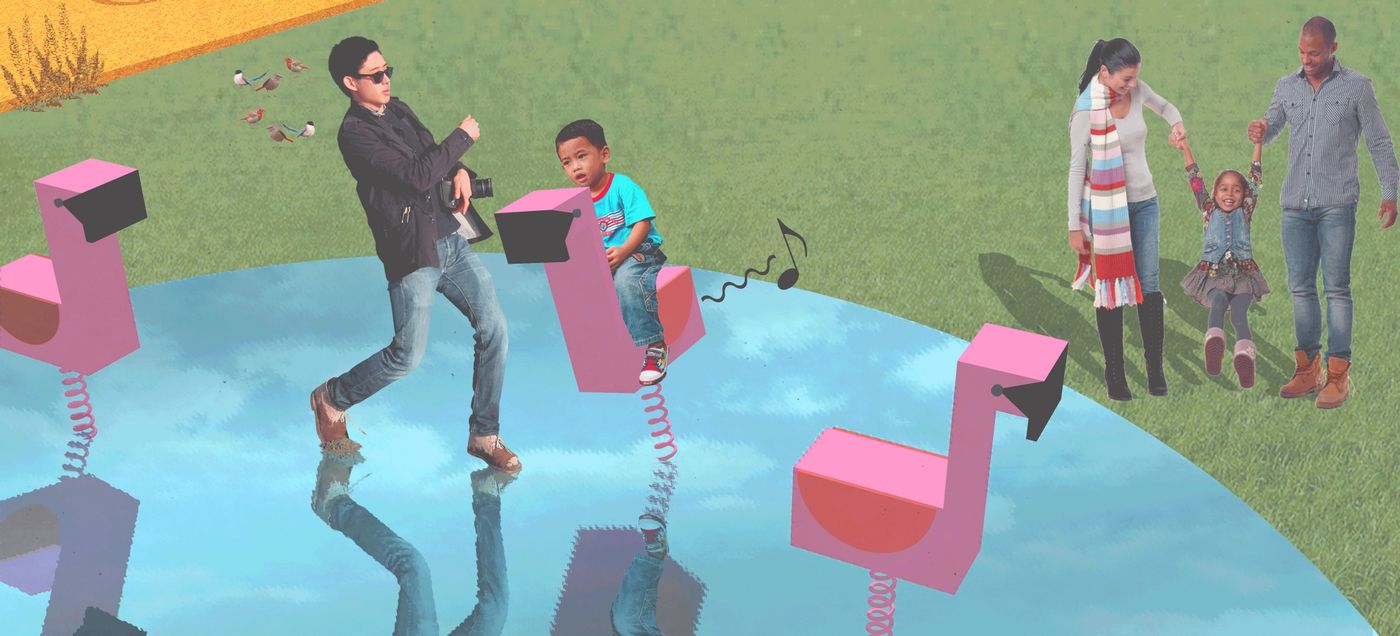 The activation of this playground will encourage local schools and inhabitants both young and old to come together with Yinka and explore memories of the park, its wildlife and their aspirations of its future, through the selection of colour and making tiles together.