Antony Gormley: Where Do We Dwell?
for RIBA + Grimshaw Foundation's First Annual Art Lecture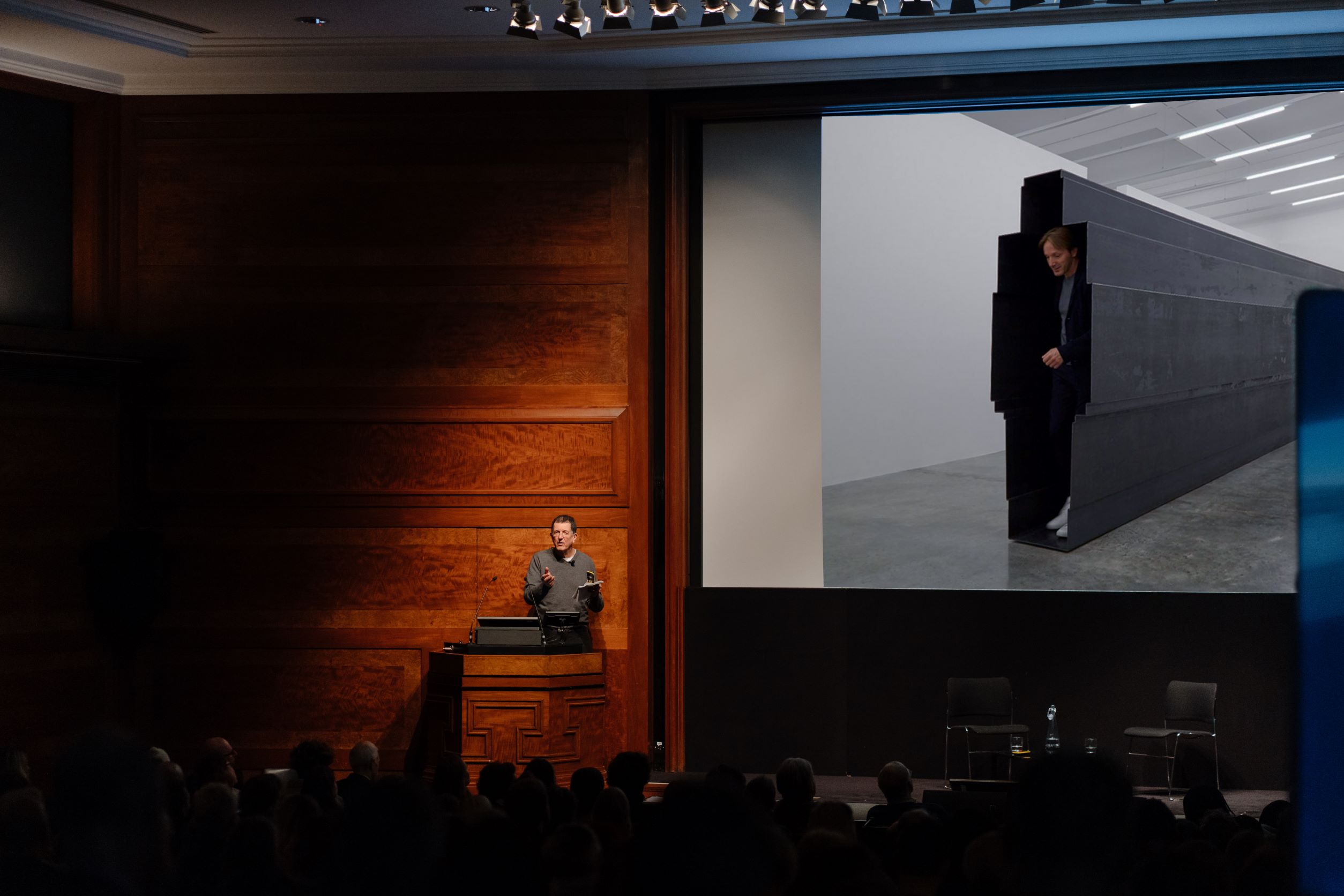 Where do we live — or as artist Antony Gormley put it in RIBA + Grimshaw Foundation's first Annual Art Lecture on 23rd January 2023, where do we 'dwell'?
It's a unique, if not slightly antiquated way of phrasing a seemingly simple question that evokes images of damp and crumbling cave dwellings as opposed to ultra-modern high-rise flats or two-up-two-downs.
But that feeling of being in a dark enclosed space is likely why Gormley chose the word 'dwell'— to encourage us to go back to our beginnings, back to the first place where we settled: our bodies.
One of Gormley's early works took this idea of dwelling in the body and visualised it by using a material that has existed globally as a form of nourishment for over 12,000 years: Bread.
For Bread Line (1979), Gormley took small bites out of the "most commonly bought processed white bread in Britain, 'Mother's Pride'", and placed the pieces in a line.
With this line, Gormley was able to represent not only the way our bodies experience the bread — one bite at a time until it is finished — but also the way we experience life: one day at a time.
'Bread Line is a measuring of life [...] the distance we travel in a body.' said Gormley. 'Bites of bread laid out on the floor, footprints in the snow, bites in bread, traces.'


Throughout his career, Gormley has been preoccupied with the idea of the body in space and the body as space. 'If the body is the first house of consciousness,' Gormley suggested, 'then maybe architecture is the second.'
If the body is the first house of consciousness, then maybe architecture is the second
In a 2008 collaboration with David Chipperfield entitled A Sculpture For Subjective Experience of Architecture, Gormley explored this relationship between architecture and the body.
A concrete structure consisting of three spaces of the same volume emerged on top of a hill in Kivik, Sweden. The lower one, 'The Cave', with no windows, is a claustrophobic entry point. It has a staircase that leads to the 'The Stage'. Missing two walls, the viewer emerges from darkness into a large, bright space with completely uninterrupted views of southern Sweden. Finally, after ascending a dark and winding staircase, you emerge at the top of 'The Tower' — an 18m-high platform that looks out over the vast sea.
It was Gormley's hope that, as the viewer moves through these contrasting spaces, they experience a sense of constraint and release in the body, demonstrating how architecture can make us feel, think, and dwell differently.
the eerie effect of walking into your own shadow
This idea of an architectural journey through space, with different levels of light, is even more powerfully expressed in Passage (2016).
The 12-metre-long piece of steel is shaped like a human figure, which the viewer can enter. Once they do, however, the other end is completely closed off, which creates the eerie effect of walking into your own shadow — into darkness.
'For many people, they couldn't make it to the end and had to stop and return,' Gormley said. 'But that experience of the return was the whole point of this work. Through the invitation of the darkness, you were invited into a metaphor for the journey we're all making towards the dead end. But then, you are invited to turn around and face the light'. Constraint. Release.
The piece with which Gormley concluded his lecture was Matrix III. It hangs cloud-like above the viewer's head, but it is also undeniably cage-like, with a mass of horizontal and vertical lines creating a sense of containment. Yet at the centre of the sculpture is a void, an indefinable space. For Gormley, this sculpture is an attempt to reveal 'the skeleton of the world that our species has chosen to choose as its nest'.
We might not think of an imposing cloud of scaffolding to be quite so natural as a nest, but therein lies Gormley's point. Architecture is inseparable from what makes us human. To truly feel this message, Gormley encouraged the audience to close their eyes and in that darkness experience 'the extraordinary space of infinite freedom, infinite potential'.
By existing, we take up space. By existing, we are space.
Something to dwell on.
By Elise Nwokedi