Black Chapel | Serpentine Pavlion 2022
The 21st Serpentine Pavilion, Black Chapel, designed by Chicago-based artist Theaster Gates, will open on 10 June 2022. Black Chapel is realised with the architectural support of Adjaye Associates with Goldman Sachs supporting the annual project for the eighth consecutive year.
When we hear the word 'chapel' we often think of an associated term: 'church'. For many of us, 'chapel' may call to mind flocks, sermons and spiritual leaders – so why, you might be wondering, is the Serpentine's 21st pavilion a religious structure?
In fact, the term 'chapel' is looser than we tend to think. Unlike a church, a chapel is a place of worship that has no pastor or priest or permanent congregation; it's all about the physical space. And, in recent times, the term has become even more inclusive: these days, chapels aren't necessarily tied to Christianity but to a sense of the spirutual – whether that has to do with art, or music, or meditation and reflection.
As Theaster Gates, the artist behind the pavilion, says: "[Black Chapel] acknowledges the role that sacred music and ritual have had on my practice and the collective quality of these emotive forces and communal initiatives. In this sense, Black Chapel is a platform through which great artistic moments in music and conviviality might happen. Black Chapel also suggests that in these times there could be a space where one could rest, reflect deeply, and spend time in quietude."
Made from structural timber clad in a plywood 'stressed skin' and timber boards, the Pavilion is the largest to date and has an emphasis on low carbon and reusable materials. The timber cylindrical superstructure sits beneath a spoke wheel roof, creating a central oculus and single source of light that floods into the space below. Inside, Gates created a suite of seven new tar paintings for the interior.
Gates's inspirations were many and varied. As he explains, "I was preoccupied with the early architectural forms that would manifest themselves in the manufactured world. The kilns of Stoke- on-Trent, the beehive kilns of the Western United States, monumental spaces like San Pietro and the Roman tempiettos. Over time, the ideas around the chapel started to expand to include more spiritually dynamic and culturally specific spaces like the Musgum mud huts of Cameroon and the Kasubi tombs of Kampala, Uganda."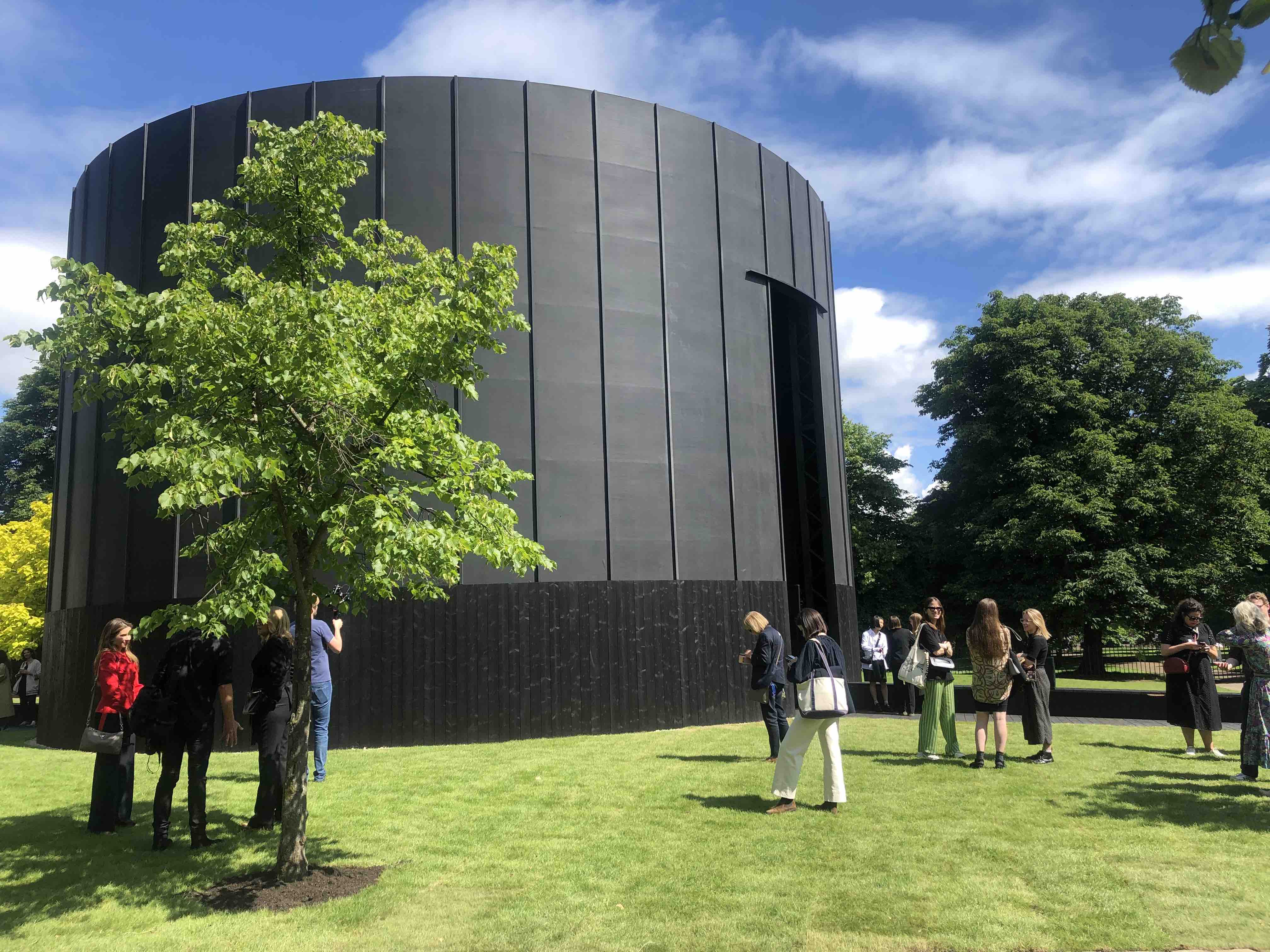 At it's heart, the chapel is an exercise in what Gates calls 'holding space': "What has remained consistent is a desire to pay homage to craft and manufacturing traditions, found especially on the African continent, in England and in the United States. These architectural forms, and the varying ways that they hold space, for people and for sacred moments, matter to me. I'm invested in how these forms produce energy and amplify sound, creating space for the sonic and the silent."
Black Chapel is open to the public from 10 June until 16 October 2022.