Serge Attukwei Clottey: Crossroads
A new series of plastic yellow tapestries have arrived in London's Simon Lee Gallery.
Serge Attukwei Clottey is a Ghanaian artist known for his creative use of discarded "Kufuor gallons", yellow jerry cans cut up and reassembled as artworks. Some of these bold, plastic tapestries are on view at a new exhibition at Simon Lee Gallery, London.
Initially, the jerry cans were used to transport cooking oil from the West to Ghana, but during a time of water shortage they were instead used to store water. The name "Kufuor gallons" actually comes from the president who resided over the country during this time.
But as time went by, the gallons were no longer able to be used and so were disposed of carelessly. They became waste materials that were forever tied to a time of real struggle and suffering for Ghana. But now Clottey is repurposing them to highlight issues like sanitation, politics, trade and migration. The artist calls his project, 'Afrogallonism'.
Clottey's art is not limited to galleries or museums. 'Not everybody gets to go to a gallery to see art, because it's thought of as a commercial space for rich people to come in and buy it,' he says. 'People think the fact that they cannot afford the work prevents them from seeing the gallery shows, so what I want to do is to create a public gallery. Mostly, I install my work within my community and invite people just to come spend time with the work in my studio and understand how it is being made.'
Last year, Clottey's totemic sculpture "Tribe and Tribulation" was commissioned for The Line, London's first dedicated art walk. To further engage with the community and celebrate the commission, workshops were conducted at six primary schools in both London and Accra during the Spring of 2022. Using plastic waste and other recyclable materials, approximately 600 children created masks inspired by Clottey's work, and the culmination of the engagement program was marked by a procession held simultaneously in London and Accra on May 26th, 2022, where children showcased their creations in celebration of the project.
Exploring the links between Ghana and the West is one of the key themes in his new exhibition Crossroads, too. In a series of portraits, Clottey explores the everchanging nature of fabrics and global fashion.
He 'wanted to bring attention to how clothes don't actually define backgrounds anymore. The world is a global village, and it's easy to find or to see things that will influence you, but to be able to understand the contemporary you need to know your traditions. You have women in Ghana using fabrics from Holland to create African clothes, so you start to question what is African in this case? It's cultural migration in the sense that your culture has been taken elsewhere and been appropriated and then sold back to you.'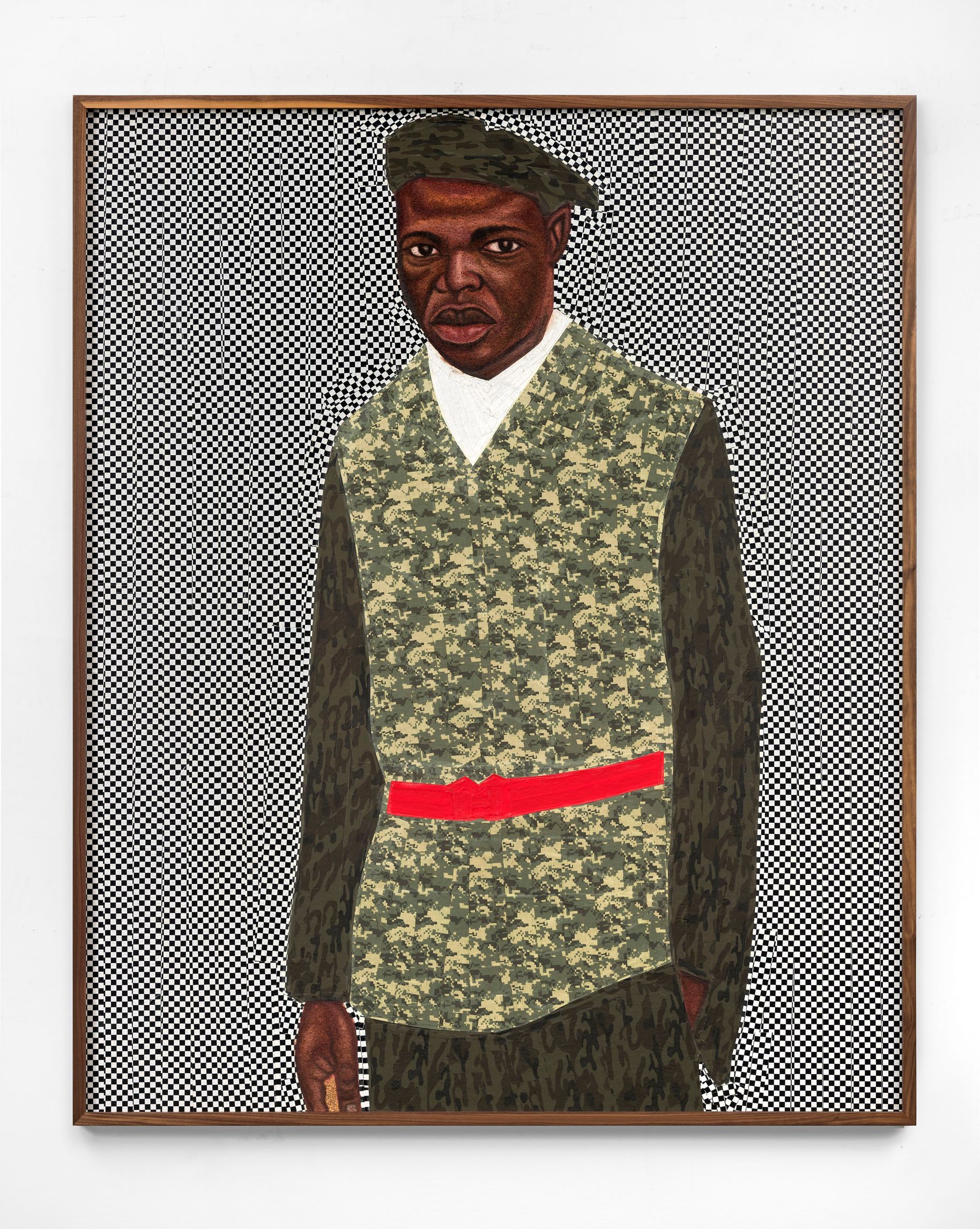 But the journey does not stop there for Clottey. As well as collecting gallon containers and transforming them into something beautiful, he is selling his sculptures back to the West as artworks. In doing so, he is challenging our perceptions of what is valuable and desirable, and encouraging us to think more critically about our own consumption habits.